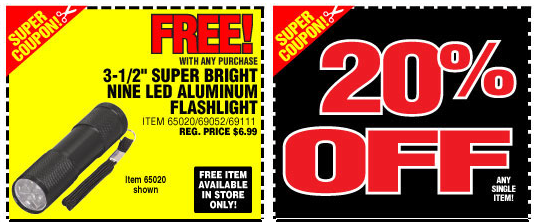 More Harbor Freight online coupons, to save you a ton of money on their weirdly low tool prices – sometimes concerningly low (remember, "you get what you pay for").
Take advantage by printing the best ones before you drive to your nearest location, or have stuff shipped if you don't live near one of HF's many stores.
So what's the story? Harbor Freight sends out at least two coupon mailings each month – their general monthly specials, and a batch of coupons for members on their coupon mailing list (which seems to expire if you don't use it often enough). Often times the coupons' discounts are significantly deep, so this is a good list to be on for those with a penchant for dirt-cheap tools.
I had missed one of the big Harbor Freight sales last weekend, but needed some project supplies (at their prices, the tools are useful for repurposing into unrelated projects – palm sanders make great vibration tools for helping settle concrete). I checked the HF site to see what general specials they're running this month, but wasn't blown away; after being on the mailing list for a while you start to get an idea of what the real prices you should pay for these tools.
Still hungry to save some money, I did a searched online a bit and found something interesting: pages and pages of  printable coupons – the member's stuff, the "Inside Track" stuff, and more. Each grouping I found has its own batch of items, and there were a variety of useful deals for most of the things on my list.
I didn't want to print out each page's full list of coupons (taking about 6 pages of regular printer paper per group), so I copied the coupons I needed and pasted the image of them into a Word document. Six coupons, two pages, and I was ready to shop. I spent $69 and got two bags of tools and supplies; I've got 90 days to think about how much I need them and decide if a return is needed.
These sections seem to be used and updated monthly for their common specials — if you're going tool shopping, check these before you leave and print out what you need.
Digital Savings http://www.harborfreight.com/digitalsavings.html
Extra Savings http://www.harborfreight.com/extra-savings.html 
Clearance http://www.harborfreight.com/clearance 
They almost always have a 20% off coupon, in case the specific item you need doesn't have a coupon that month – and make sure to bring the free flashlight coupon too.
Now, to just get them to stop requiring a print out. It's wasteful, and most companies these days let customers scan the image from their smartphone.